The following two tabs change content below.
Founder & Editor of Fierth.com - I am not a journalist, I am not a blogger, and I am not a writer.
Latest posts by BRIAN MILLS (see all)
Chances are by now you've heard of "cronuts," croissant/donut hybrids that have taken New York City by storm. Getting one of the trademarked goodies will set you back $5 ($40 if you scalp one) and a few hours of waiting outside in the wee hours of the morning if you're lucky enough to live in NYC. Otherwise, you'll have to add a plane ticket to that tab.
For those of us who are far, far away from Dominique Ansel Bakery, the only option is attempting to recreate the heavenly creations ourselves. Here are two recipes to try out. Since "cronut" is trademarked, we'll just call them "doissants."
Recipe 1:
Here's Katelyn Williams recipe for vanilla cream and orange blossom glaze "doissants":
Roll-in (Makes 50)
350g margarine (I used Stork)
40g cake flour
15g cornflour
50g fresh yeast
400g lukewarm water
1kg cake flour
100g sugar
100g margarine
20g salt
Oil, for deep-frying (I used vegetable oil but Dominique uses grapeseed oil)
Vanilla pastry cream
500ml milk
1 vanilla pod, split and seeds scraped
4 egg yolks
80g castor sugar
40g cornflour
500ml cream, whipped
Glaze
1 egg white
2 cups icing sugar, sifted (plus more, if necessary)
1 tbsp lemon juice
1 tbsp orange blossom water
1. Start by making the roll-in. Mix the margarine and flours well then spread out onto a sheet of cling wrap. Spread out roughly then top with another sheet of cling wrap. Using a rolling pin, roll the fat out until 1/2cm thick to make 30 x 20cm rectangle. Close the ends of the cling wrap and place in the freezer until hard.
2. In the meantime, prepare the dough by mixing the yeast and 100g of water in a mixing bowl. Cover and place in a warm place until frothy. Then add the rest of the ingredients and combine in the bowl of a mixer using the dough hook attachment. Knead for about 4 minutes then allow the dough to rest for 20 minutes.
3. Roll the dough out on a floured surface to 1cm thick then place the chilled butter roll-in on top. Do a simple 3-fold (like folding a business letter) and roll out again to 1cm thick. Cover and place in the freezer to rest for 20 minutes. Roll the dough out once again to 1cm thick then do another 3-fold. Rest again in the freezer for 20 minutes before doing the last fold and rest.
4. Roll the dough out again to 1cm thick and cut out with a round cookie cutter and a smaller one, to create the hole in the centre. Place the pastry circles onto a lined and floured baking sheet, cover lightly and allow to proof in a warm place until doubled in size.
5. Preheat the oil to 165C and deep-fry the cronuts in batches until golden and puffed. Drain on paper towel and allow to cool completely. If you would like to dredge them in sugar, do so while hot.
6. To make the pastry cream, heat the milk and vanilla until just below boiling point. Cream yolks, sugar and flour then gradually pour in the hot milk while whisking. Return the mixture to the pot and cook, while stirring until thick. Place in a bowl, cover the surface with clingwrap and allow to cool completely before folding in the whipped cream. Place the cream in a piping bag with a small plain nozzle.
7. To make the glaze, whisk the egg white slightly then add enough icing sugar to form a stiff paste. Add the lemon juice and orange blossom water.
8. To assemble, poke 3 holes in the bottom of each cronut with a chopstick or knife then pipe pastry cream into the bottom of each. Dip the tops in the glaze and allow to set. Serve immediately.
Recipe 2:
If don't have the time or talent to make your own pastry, you can also start with frozen croissants or biscuits. Mary at "This Tasty Life" used frozen croissants from Trader Joe's. Here's her recipe:
First … I started with a box of mini frozen croissants from Trader Joe's. I let them sit out on my warm patio for about 5 hours.
After five warm hours, I had these little puffballs. It turned out well that they sort of overinflated so it kind of all came together for one round shape.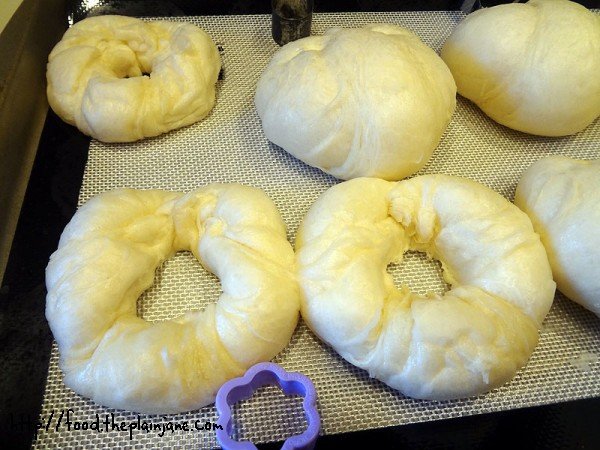 Using cookie cutters, we cut out the middles and made cronut holes with them. The cronut holes were our inital test to see how they would fry up. I found that the extra air really needed to be "poked" out of them otherwise they would not flip over! After I saw that happening, I cut holes out of all of the croissant dough so I wouldn't have trouble with the bigger donuts.
I used my smaller deep fryer so I could only fit one cronut comfortably into the fryer.
We fried them at 350 degrees until golden brown on each side (about 2-3 minutes per side).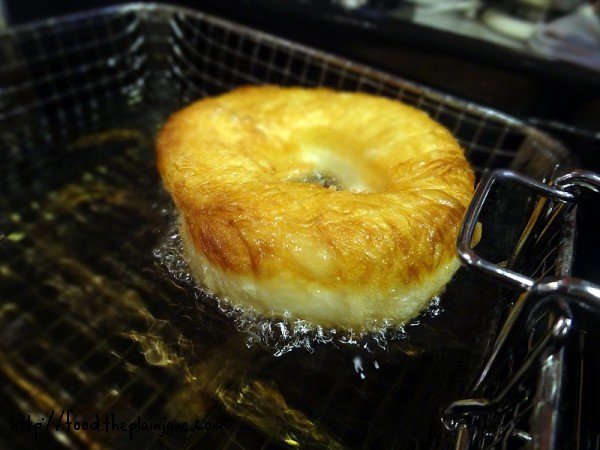 Can you see the flaky layers?!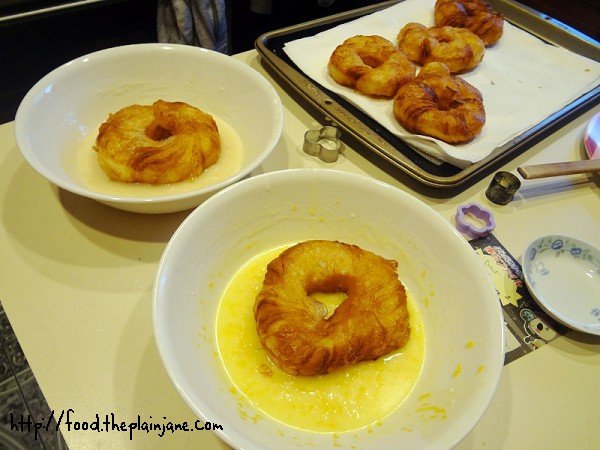 After draining on a paper towel, the cronuts went for a bath in some glaze. Lauren and I made two glaze flavors: vanilla honey and orange (with orange peel). The orange was our favorite of the two. I think the orange zest really makes the color and flavor pop!
The best way to do it is to let them cool a bit, dunk in the glaze and let it set. Then … dunk again for double the glaze. You can also add sprinkles or whatever else you like to make them more festive.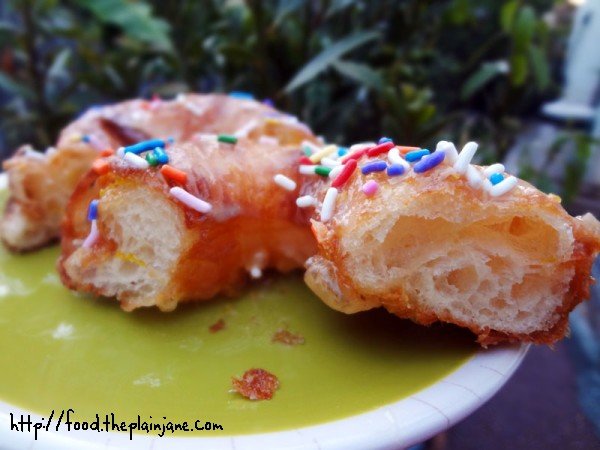 The cronuts taste best on the day of making. That way you get the maximum enjoyment since these babies are SUPER crunchy and flaky. They're really intense, too, since you're getting the fried dough plus all the flaky butterness from the croissant itself. Despite it being intensely rich, they're really, really yummy and I recommend you try and make these just as soon as you can. Using the frozen croissants from Trader Joe's just saves a lot of time and headaches – I mean, I wasn't about to go and make actual croissant dough first you know. Oy.
Here's the recipe for the glaze if you want to try and make these suckers!
Donut Glaze:
Ingredients
1/3 cup butter
2 cups confectioners' sugar
1/3 cup hot water
1 teaspoon vanilla extract
1 teaspoon honey
2 1/2 teaspoons orange juice
zest of one orange
Instructions
In order to make two glazes, I just eyeballed and measured everything and cut in half and dumped the butter, sugar and hot water into two separate bowls.
To one bowl, I added vanilla and honey.
To the second bowl, I added orange juice and zest.
Mix everything together until smooth. Use to dip (and double dip) your donuts!